Growing Global Executives: The New Competencies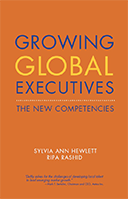 Growing Global Executives: The New Competencies, by critically-acclaimed author Sylvia Ann Hewlett, and global workplace expert Ripa Rashid, provides a robust leadership template for multinational corporations (MNCs) seeking to globalize their top talent. With global markets shifting to the South and East, multinational companies can no longer afford to depend on ex-pat executives as local proxies.
This new research, based on a 11-country study of highly qualified employees (in Brazil, China, Hong Kong, India, Japan, Russia, Singapore, South Africa, Turkey, the US, and the UK.), finds that emerging leaders are in want of two core competencies: the ability to calibrate their leadership presence to project credibility to superiors at headquarters as well as stakeholders worldwide; and the ability to unlock value from globally dispersed and culturally diverse teams through inclusive leadership. These competencies depend, in turn, on mastery of the virtual communication toolkit, in a world where leadership is increasingly exercised remotely; and on leveraging the sponsorship of senior management.
Please note: Bulk purchase discounts for the Book and eBook are available by contacting 800ceoread.com, or rarebirdbooks.com, or the Center for Talent Innovation. (10/29/2015, Book - 170 pages, Center for Talent Innovation, A Vireo Book, Rare Bird Books)
VIDEO LINK
Growing Global Executives: The New Competencies