Harness the Power of the Purse: Winning Women Investors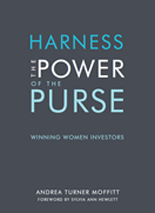 What's driving the market failure for women investors? Andrea Turner Moffitt, a leading thinker on women and investing, cracks the code on how to fully harness the power of the purse offering a roadmap full of tactics for winning with the biggest growth market: women.
Using a wealth of hard data - including findings from nationwide surveys and dozens of focus groups and interviews with female investors from New York to London to Hong Kong - Harness the Power of the Purse reveals compelling insights on the female investor market. The book also draws on in-depth interviews with top advisors and forward thinking leaders to reveal how they are spearheading innovative solutions.
Whether you're a women investor looking to flex your financial muscle or an industry advisor or leader committed to building gender smarts,Harness the Power of the Purse is a vital resource for turbo charging growth and closing the gap for women investors. (3/15/2015, Book - 218 pages, Rare Bird Books, A Vireo Book)
VIDEO LINK
Harness the Power of the Purse: Winning Women Investors